An Interview with Mistress Tahlia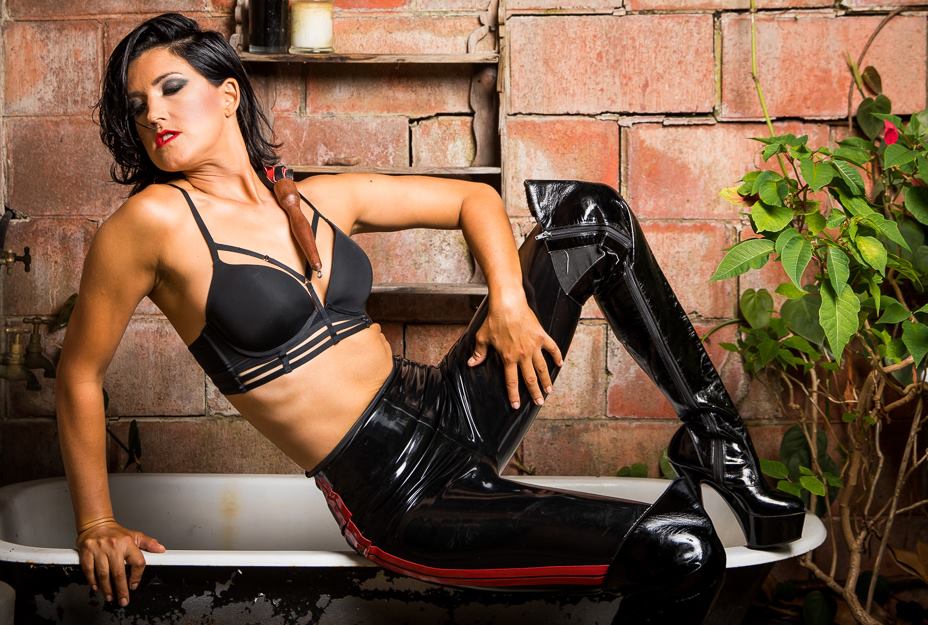 Domina Parties Australia is thrilled to be joined by Mistress Tahlia, a legendary and statuesque figure in Australian scene.
Domina Parties You have worked at Enigma, The Den of Iniquity, Salon Kittys and have a wonderful career as an independent Mistress, including interstate and international tours and running The Hurt Collective – a group of powerful ass-kicking women wrestlers! What drew you to becoming involved with Domina Parties Australia?
Mistress Tahlia I have always loved public play and public humiliation especially! You can't replicate that in a normal session and working privately there isn't often opportunity to safely degrade slaves as there is at a fetish party. I also enjoy the social aspect and seeing what my peers get up to behind closed doors! It's great for coming up with new ideas – you always see something new at the Domina Parties.
DP Tell us more about The Hurt Collective. What inspired you?
MT The Hurt Collective popped up after Salon Kittys closed down. I had started doing wrestling promos and was really enjoying the work so went off and learned a few moves that upped my chances of beating my clients. Wrestling is the only form of domination that is genuine – that is there is no doubt that if I genuinely pinned you down and wanted to keep there, you could not escape. There is no role play. I wanted to put together a house of strong women who like combat play, female supremacy and domination.
---
I expect them to submit to a level that either meets or betters what I give as a sub
---
DP A lot of would-be wrestling opponents seem to enjoy talking smack before the match has even commenced. What would your ideal opponent be like?
MT Flirtatious and fun yet still a gentleman. Some can't handle the ego check that comes with getting your arse kicked by a girl – they go into fight or flight and often end up hurting someone. It's all just good fun however I insist on only doing full comp wrestling sessions with known clients – you don't want to get a dangerous inexperienced client on the mat and end up with an injury that kills your career.
DP You are passionate about corporal punishment sessions and a heavy switch yourself. What draws you to CP, and what advice would you give to those that are curious but too scared to ask?
MT Start slowly. Start with a sensual spanking and escalate. Over the knee creates an intimacy and arousal so it is always a good place to start. Escalate is my middle name! The heaviest canings that I've taken and given have all started slowly and built up. You need the endorphins to kick in so that you feel relaxed and want to please your dominant by taking more. The relationship with the Top is very important. You have to want to please – it's the basis of the D/s universe!
DP While you are known as as an accomplished wrestler and CP queen, there is a nurturing, sensual side to your play as well. What are some of your favourite sensual scenes?
MT Most of my sensual scenes are based around bent fantasy role plays. I'm not afraid to explore the darker and more taboo role plays – I think after 20 years experience I find the arousal of the role play more exciting than the physical elements – the brain is so darn naughty and nothing is off limits with role play!
DP As switch Hannah Elliott, do you think that is it easier for you to empathise with the experiences of your clients when curating their journey into power exchange?
MT Yes. I know exactly the journey they want to go through and I expect them to submit to a level that either meets or betters what I give as a sub. I've done a lot of switch sessions that turn out to be Master training sessions. It's great because everyone has to start somewhere and we chat throughout so it's a nice relaxed atmosphere where you can both experience the sensation of the play as well practice giving it. It's not as easy as you think!
---
Toilet training is the ultimate in submission. I think that's what I enjoy the most.
The head fuck.
---
DP We've seen you tour diary and it's like a whirlwind! Do you have a favourite city to visit or a dream destination?
MT I love Melbourne. I have a large card full of Masters that I enjoy seeing every time I visit. Also I am always booked out for FTT (full toilet training) sessions with a wait list. It's a great kinky city full of creative players and I always enjoy my time there. I tour there constantly and always have a ball.
DP Where can eager supplicants join your mailing list for tour updates?
MT I have a mailing list for each city – just email me m@mistresstahlia.com.au and I will add you.
DP We've been privileged to witness you using a slave for your ablutions at a party. There is something so singular about training a slave for use as a toilet. Many are interested but few seem to succeed. What do you enjoy about toilet training?
MT Toilet training is the ultimate in submission. You are taking part of your Mistress and involving it in your own composition. It stays inside you until you release it later. Almost like being possessed by your Mistress! Aside from the humiliation aspect, the pleasure at being allowed to worship me afterwards as a form of toilet paper and the excitement and anticipation of the main event (the brown shower) FTT is the ultimate submission. Taking your Dominants waste and disposing of it through your own system. How bent is that?? I think that's what I enjoy the most. The head fuck.