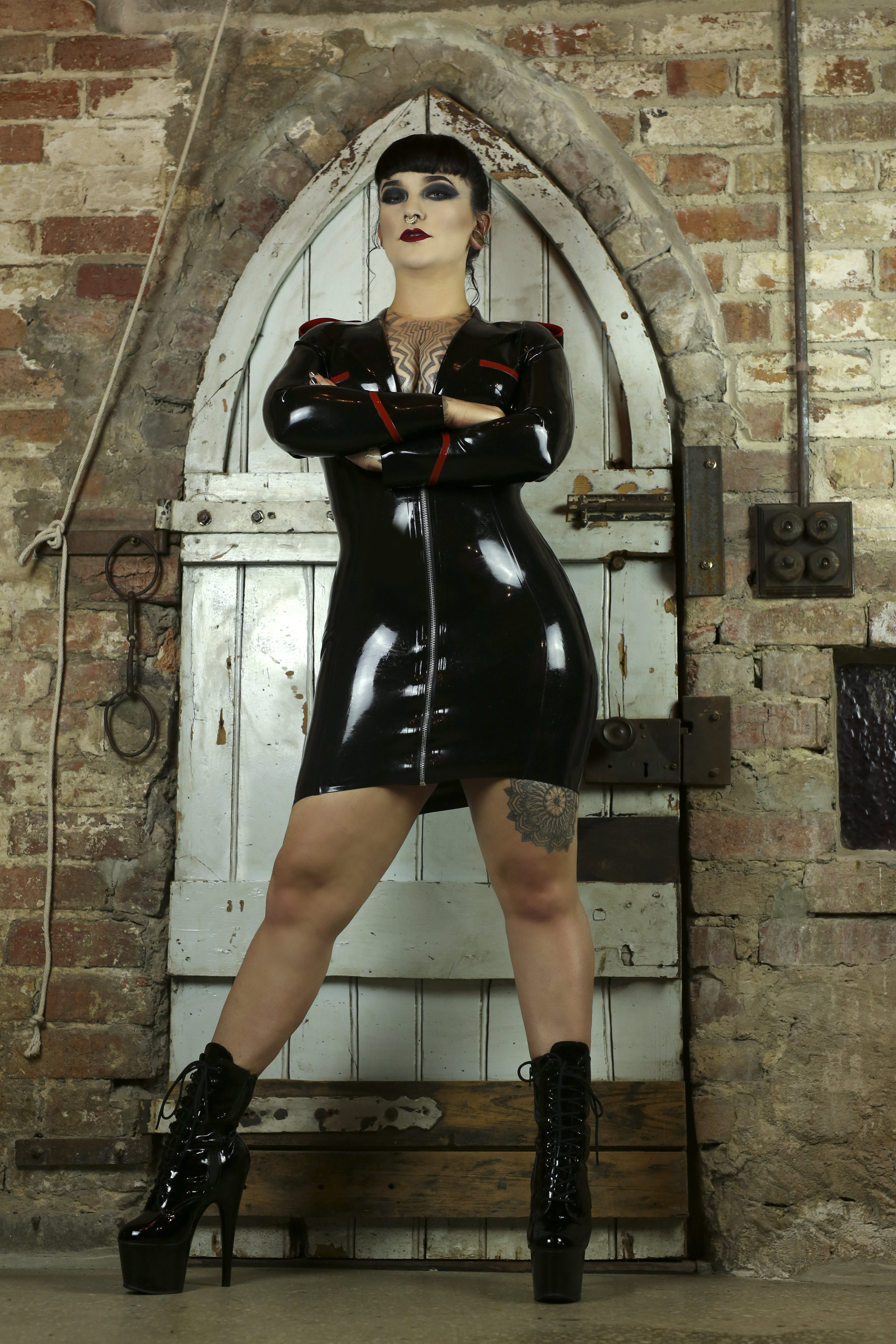 Hailing from London, the fetish capital of the world, I have spent years building up a wealth of personal experience within the fetish community. My sessions are always unique, unforgettable and of course, completely customised to your comfort level, limits and interests; but rest assured, I am always in charge.
Perhaps you want to explore sploshing with me – a whole mass of colour, texture and sensation. Or maybe you are inclined towards an intense school girl role play? My many years at an English boarding school add a realistic level of detail into these encounters.
I am truly interested in the plethora of the human experience be that sexual, gender, ability or personality. I am truly queer and bisexual. I adore the company of all genders, multiple genders, gender non-binaries and all sexes. I enjoy couples bookings as much as I enjoy solo adventures.
Let's explore, get lost, adventure together. Come and enjoy a creative, seductive temptress in her element. 
An Interview with the Mistress
Domina Parties Australia is thrilled to be joined by Miss Tallula- English Dominatrix, Kinky Girlfriend and Couples Connoisseur.
Domina Parties You are known for taking (and sharing) pleasure in the sensual and erotic in life, from art to whisky to food. What drew you to becoming involved with Domina Parties Australia?
Miss Tallula Public play is so wonderfully delicious, how could you turn an opportunity to work with some of your favourite Dominants down? When working independently one doesn't have as many opportunities bounce ideas off one another mid scene, the cackles that can happen, the unexpected twists, the ganging up on clients and the joyful co-creation that working in multitude can bring. I have enjoyed playing with other dominants who I have not had the opportunity to work with before. Everyone has a niche and a speciality and a flair in their work and you can create some chaoticness which I really enjoy. Mistress Penelope was one of the first people I met when I joined this industry in an Professional Development Awareness Training for working with people with disabilities and I knew that we would get along and when I was given the opportunity to work with her and others, I jumped at the opportunity.
DP Feeding from the experiences and pleasure of others can be incredibly hot (which is why we love the parties). What are other ways that clients can have this kind of experience (forced bi, doubles, extended sessions with others brought in).
MT Working with other Dominants is electrifying. Doubles are joyous, hilarious, ridiculous, serious and divine. One of my favourite types of sessions is cuckolding and forced bi sessions. I really enjoy harnessing and building fantasies with others, you get to play with anticipation, trepidation and with another Dominant in the room you get to build some wonderfully powerful scenes and narratives. It's super hot to tie a client down and make him watch you live out your desires with another just beyond their reach. The air can feel electric and it also brings in role play which is another one of my favourites.
Extended sessions again are something which enable a depth of time and connection which allows you to create scenes which are multi layered, complex and drawn out. The energy exchange and ability to play is delicious and devious.
DP Who are some of your favourite play companions?
MT This is a tough question as I really enjoy so many people who I have played with and I feel like I excel in different ways with different companions. I really enjoy laughing at the expense of clients with Miss Penelope, she has an infectious laugh and I like that often the play with her doesn't have the serious protocol edge which is not my usual way of working. Another firm favourite is working with Mistress Tahlia as I find both her aesthetic and ability to dish out degradation play delightful. Mistress Tokyo has the best equipped dungeon I have had the pleasure of working from and creates complicated, layered bondage layered with fetishes.
Mistress Ester and I have created some wonderful role plays together, interrogation style where we were bad cop, bad cop.
Mistress Electra and I have shared scenes including where we nailed someones genitals to a board and again she has a wonderfully equipped dungeon.
Sir Clare Black in London, who runs Peacock Parlour, is a fun and fantastic sensual dominant and we have similar interests in what she describes as hot and cold play.
I have concocted some devious forced bi and cuckolding doubles with Jaiden Lillith and our combined sadism is fulfilling and deeply erotic.
DP From your twitter feed, we know that festivals of art, culture, fine food and whisky can influence your touring schedule. What is your favourite city to visit on a pleasure tour?
MT That's a difficult choice, I have a rather broad taste in arts and music and a lot of cities I enjoy to travel to a different times of the year. I have recently returned from London where I enjoyed the summer sun and meeting with many other Mistresses (such as Sir Clare listed above) and some clients. Every year I attend Dark Mofo in Hobart, the festival with the highest production value of any I have witnessed. It was also full of kinksters and had a submissive hair salon…
Adelaide has Unsound, Adelaide Fringe and Adelaide Cabaret Festival and I get a wide range of kink sessions from sensual dominant to fisting and forced bi.
There are often wonderful exhibitions at GOMA in Brisbane, I recently returned from the Patricia Puccini show there and saw a multitude of cross dressing clients.
Canberra has many of the national galleries so I make sure to visit Canberra multiple times a year, I have also found the clients in Canberra to be some of the kinkiest, which I throughly enjoy (for example I have more beatdown sessions in Canberra in one tour than I would have in the whole of Australia of the rest of the year).
DP An devotee to exquisite sensation, what are experiences that you enjoy curating for your clients?
MT I enjoy curating experiences from in session sensations such a role plays to social occasions such as dinner dates where I get to pick everything we do and eat and perhaps you are wearing a chastity device or a vibrating but plug. Adding sense of joy and surprise are really important to me in my sessions, which is why I adore role plays. Role plays are full of spontaneity, feedback, adventure, which is true also of social events such as dominating dinner dates.
I really enjoy longer sessions with clients, where you can really get under their skin and get to know their desires and fears and create scenes of depth and compassion. I'm a whisky enthusiast so I really enjoy when clients either take me on a whisky date (we only have one or two so as to ensure that no one is effected greatly by the alcohol and to ensure that everyone is in consent with their bodies and actions) or buy me some whisky to enjoy.
DP A lot of people experience guilt or cognitive dissonance when indulging in personal pleasure, how do you help them escape this social reflex? 
MT I often have clients coming to me wanting to explore a side of themselves which they have never experienced before (I have just written a blog post about this, let me know if you want the link to it, it goes live tomorrow) and they often have not explored this because of a sense of shame, or guilt about indulging in personal pleasure or that their personal pleasure is somehow taboo. It feels deeply cathartic to be able to give someone a space to explore these pleasures or taboos, which is non judgmental and supportive. I really enjoy role plays which allow people to investigate parts of themselves which they have left dormant or which are not socially acceptable to explore. I have played the role of alpha female, in many role plays exploring female supremacy or male misbehaviour. I really enjoy the feminist slant you can bring to a role play when someone is really willing to interrogate social structures in a space that is playful.
I also really enjoy working with other Mistresses and Masters and have really enjoyed some forced/coaxed bi and cuckolding scenes with lovers and Masters. They are hugely fun as they incorporate role plays along with humiliation and are intensely sexually charged. It brings me deep joy when submissives come with specific role plays they want to experience within a cuckolding or forced bi context, perhaps they have been caught by me, their wife, exploring with a man and then I make them continue to explore with the stud before enjoying the stud myself in front of him.
Forced bi is a wonderful way for people who are curious about exploring their sexuality or just have an attraction to cocks to explore this whilst also being told what to do, which can take some of the pressure of asking and exploring away from the situation. I also adore working with studs and masters to give oral instructions those new to cock sucking.
DP What are some of your favourite ways to play?
MT It's hard for me to list all the ways I adore playing but some of them are:
first off extended or longer bookings, as spoken about earlier, I really enjoy taking my time to work out someones kinks and truly explore them. I'll pick where we go for dinner and what you eat and then we will come back to my space where you will be mine for many hours
offering doubles with other mistresses in which we can bounce ideas off one another and therefore increase the submissives heightened experience
role plays including cuckolding and forced bi which I talk about above
sensual domination- from tie and tease to body worship
corporal punishment- I especially love flogging and spanking
latex- I have a huge amount of latex which I adore wearing and being appreciated in
sensory deprivation- from blindfolds to mummification I love having you under my spell
Cock and Ball torture- from tying up the balls, to kicking them to using needles and wax
Golden showers
Human furniture or anything body weight related- from resting my feet on you to trampling you
Fisting, Prostate Massage, Strap on and pegging- from a finger to a dildo to a fist, I really enjoy putting things into peoples arses. Also to note, I have very small hands, ideal if you are wanting to explore fisting for the first time.
DP Where can eager supplicants join your mailing list for tour updates?
MT I send out monthly newsletter updates, please find my sign up for here and also my tour dates page here.
DP What do you enjoy about being involved in Domina Parties Australia? Are there any events that are your particular favourites or that you would like to see happen?
MT I love being involved in domina parties for a variety of reasons, primarily it is really fun to have more chances to work with other mistresses, to bounce ideas of one another, to spend lots of time laughing and coming up with brilliant ideas of how to use the submissives in our time together. I really enjoy the adoration and bound parties and I am looking forward to their being some more parties involving role plays and predicament bondage. Another great advantage about working with other dominas is that you see other ways of working or using equipment in ways that you perhaps wouldn't yourself so it is both fun and a constant education, filled with cheese and hilarity.
What are you waiting for? I promise I don't bite (hard)
Explore pain, pleasure and lose yourself to fantasy.