Bound
Tied, teased and bound to please…Us.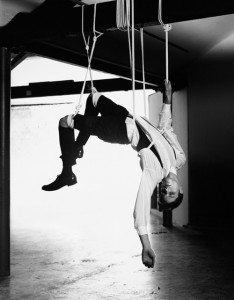 Are you into being restrained, enveloped or encased, or would like to try it out in a safe, comfortable, well-equipped venue?
Do you dream of being left in a cage, cuffed and restrained, strapped down, chained up or simply wrapped in rope whilst left to the mercy of a capricious Dominant Lady?
Bound is the ideal opportunity to indulge in a breadth of bondage and restraint, including having lashings of rope wrapped around you, being chained and cuffed, mummified in saran-wrap and/or duct tape, fully encased in latex (inflatable or standard), placed in a leather sleep sack or laid in a military issue body bag.
There is the option of full sensory deprivation or blindfold, and if requested we can feed you specially chosen music or noise to 'enhance' your stay. Once immobilised, we then leave you to contemplate your life, or perhaps we'll torment you whilst you're helpless! Never fear abandonment, we always practice a high level of care at each event and will check in on you.
These days are perfect for the long-term bondage enthusiast, as well as the raw beginner.
We will be seeing you soon, pet.