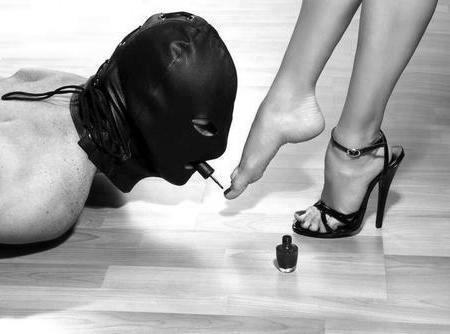 Adoration
Foot fetish at its finest
Soft bare skin, pretty painted toes, high curved arches, beautifully curved ankles, long legs, silken stockings, fantasy fishnets, old school seams, high heels, peep toes, platforms, ballet flats, leather boots, patent, pony skin, strapped sandals, or sweaty sneakers…
Does the mere thought of these things make you feel weak at the knees?
A room full of Dominas with beautiful feet and shoes, each of them waiting to have their feet lovingly worshipped.
A foot fetishist's dream come true!
Kiss Goddess's luscious Louboutins from toe to heel.
Lick Mistress's soft leather thigh boot from bottom to top.
Suck the heel in deep until you can feel yourself almost choke.
Clean the soles with your tongue.
Caress these powerful feet, strengthened by time spent in stilettos, and feel them flex and relax as your massage releases all of the tension.
Play can take the form of worship, shoe and bare foot trampling, face standing and anything else related to the worship of beautiful boots, shoes, feet and legs.